The star Alcor in the Great Bear star system is a shipping reference. Since 2004 it is the name of our first wine with a production of nearly 7 thousand bottles per vintage.
2009
Final Blended: Syrah 46%, Garnatxa 28%, Cabernet 6%, Marcelan 8%, Monastrell 12%.
Fermentation: 80% fermented in 500 litre open-top oak barrels with frequent manual, punch-downs. The rest in fibre-glass tanks with pump-over. 9 -15 days maceration. Malolactic fermentation in barrels.
Aged:18 months
Maturation: 40% in new French oak barrels, 60% second wine Frenck oak barrels.
Racking: One at 9 months maturing, and pre-blending.
We bottled: 6892 u. de 0,75 L bottled
and 397 u. de Magnum 1,5 L
Alcohol: 14,85 V
Tartaric acidity: 5,35g/l.
pH: 3,61
Residual sugars: 0,26 g/l.
Malic Acid: 17 mg/l.
Volatile Acidity: 0,71 mg/l.
Free Sulphur: 19 mg/l.
Total Sulphur: 67 mg/l.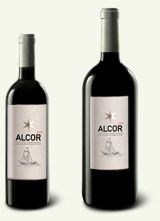 Bottle 0,75 l. and Magnum bottle 1,5 l.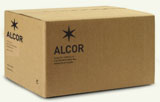 Box containing 6 bottles of 0,75 l.